Serve is powered by Vocal creators. You support
C.C. Curtis
by reading, sharing and tipping stories...
more
Serve is powered by Vocal.
Vocal is a platform that provides storytelling tools and engaged communities for writers, musicians, filmmakers, podcasters, and other creators to get discovered and fund their creativity.
How does Vocal work?
Creators share their stories on Vocal's communities. In return, creators earn money when they are tipped and when their stories are read.
How do I join Vocal?
Vocal welcomes creators of all shapes and sizes. Join for free and start creating.
To learn more about Vocal, visit our resources.
Show less
10 Awesome Outdoor Army Surplus Items You Can Find Anywhere
Want to get your hands on awesome military equipment for hiking or camping? These are the coolest outdoor army surplus items you can find anywhere!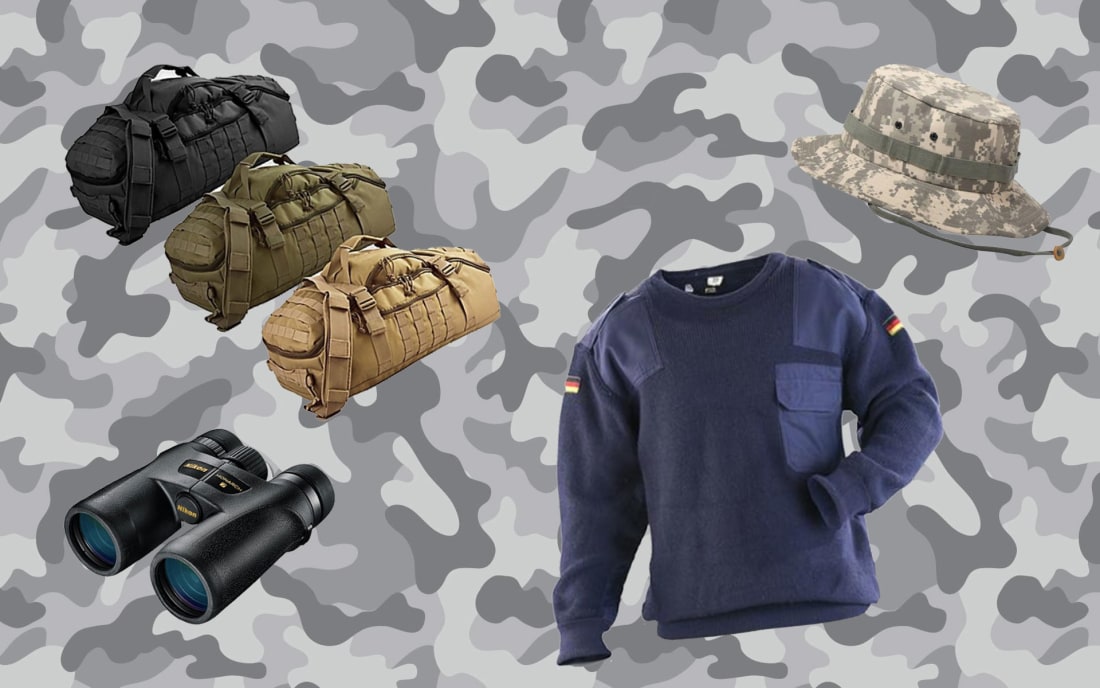 There's a ton of really cool military items you can get for yourself. Even if you've never served in the military, we can all use the benefits from their awesome items and equipment. From their thick coats to the ideal combat boots, there will certainly never be a time when any military item will be useless—because they're very useful! Since soldiers undergo a lot of events and even deal with harsh weather conditions and any other conditions, they need the right equipment to keep them composed and out from any discomfort. And honestly, there are times when we need similar equipment, too, especially if we spend time outdoors a lot.
Definitely when you spend a lot of time outdoors, military equipment  certainly has you covered. If you enjoy camping, hiking, or simply spending quality time outside, we all should get our hands on materials that will benefit our appreciation for nature, like thick coats to bear the cold and durable boots to get through the worst ground conditions. So, if you want to get your very own military equipment, these are the best outdoor army surplus items you can find anywhere.
Digital Camo Jungle Hat by Rothco
If you love spending most of your time outdoors fishing, hiking, or even hunting, then I've found the perfect hat for all of those activities. Sure, the majority of hats can protect you from the sun's rays, but that's all that certain hats can do for you. When it comes to outdoor activities, you should seriously get your hands on a jungle hat.
It's very similar to a bucket hat, but jungle hats are way more comfortable and they even feature side vents to let out any heat from under the hat. And some of us tend to have heat build up when we're hiking a lot. Anyways, what better jungle hat is there than this one by Rothco? In an awesome digital camo design, this hat is constructed with cotton and polyester with side vents, branch loops, and a chin strap. Not only can this hat handle many conditions, but it's lightweight and very comfortable to wear all day.
The Military Jacket by Bonobos
Bonobos is a great brand that only creates top-quality clothing. And as for their top-quality clothing, their military jacket is to die for. Inspired by the military theme, this one isn't just super stylish, it comes with advantages, too. And not many jackets can give you so much like this one.
Among the really cool outdoor army surplus items you can find anywhere, this jacket is seen as both utilitarian and stylish. With a four-pocket design in garment-dyed for a vintage look and feel, you're getting a great-looking military jacket. You can store so much in the pockets all while the material of the jacket is keeping you warm, as well.
German Military Surplus Commando Sweater by Sportsman's Guide
Talk about thick material, this sweater will keep you constantly warm when you're outside. If you enjoy camping, and still love it during the more cooler temperatures, this commando sweater is thick enough to never allow cold air to hit your skin. Designed in a German military commander style, it features cloth patches on both shoulders and elbows. There are also German flag insignia on the arms.
Created with a tough wool-blend material, you'll always expect nothing but comfort and warmth from this sweater. Ideal for camping or even hunting around the colder seasons, this should certainly be your ideal sweater during those times. In a crew-neck style, there's also Velcro brand closure chest pocket that will securely keep anything from falling out.
Polish First Aid Box Plastic by European Military
We all should have an ideal first aid kit laying around somewhere. Especially if we spend time outdoors a lot, it's possible for us to come across an accident. And we always want to be fully prepared for those accidents. Camping or hiking, no one should ever head out without a great first aid kit.
However, if you need one, this is the perfect first aid kit box by European Military. Among the outdoor army surplus items you can find anywhere, you can store everything that you believe you'll need. From Band-Aids to tiny scissors, cloths, wipes, etc., this box can hold a good quantity of what you need for your camping trip. Featuring a durable shell, the box can also be used for any form of organization like storing tools and other loose items. 
Jungle Boots by Rothco
You definitely shouldn't go hiking or trail walking with regular shoes. Your shoes wouldn't be able to handle some of the ground conditions you're walking on. They can end up becoming completely torn apart. That's why you need jungle boots to help you climb up steep mountains  and rough jungle grounds. And from the outdoor army surplus items you can find anywhere, tactical combat boots are pretty heavy duty and will never let you down when you're walking through rough grounds.

And this specific pair of combat boots by Rothco is everything that you need in military boots. In a design of suede and nylon, these boots are not only for fashion, but performance, as well. The corded lace will always keep a secure and snug fit on your feet. The rubber outsoles are thick and  can handle climbing up mountains and walking through pits and dirt. So, if you're on the hunt for a great pair of combat boots, don't look past this one.
US Navy Insignia Fleece Blanket by Rothco
You can easily tell that Rothco is an amazing brand in all things military inspired. And as for their US Navy Insignia Fleece blanket, it's certainly among the outdoor army surplus items you can find anywhere. We all can use a blanket, indoors and outdoors, something needs to keep us warm, right? And what better blanket to use than one that's inspired by the US Navy Force?
Ideal for camping, this blanket will make you stay warm all while showing your Navy pride! Not only can you use this anywhere outdoors, but it's also a great gift for veterans who served in the Navy. Made out of the best material, this blanket can be used for outdoors or even indoors on the couch or bed.
Traveler Duffle Bag by Red Rock Outdoor Gear
If you've never owned a traveler duffle bag, you don't know what you're missing out on. Among the handiest outdoor army surplus items you can find anywhere, this duffle bag can literally bring nearly everything you need for a camping trip or traveling across the country. Since it's inspired by the military, there are so any compartments and space to store whatever you need. From clothing to shoes, accessories, and other belongings, you'll store what you need and still have leftover space for anything else!
With molle webbing that offers additional storage, there is also the top carry handle and removable shoulder strap lend for multiple carrying styles. This way, you can carry the duffle bag in your hands or on your shoulder. The bag includes 55 liters of total compartment space to store away all that you need for your travels!

10 x 42 mm Monarch 7 Binoculars by Nikon
The military certainly does use binoculars to spot their enemies. Wouldn't you want to use binoculars to spot your prey when hunting? These Nikon binoculars are one of the best outdoor army surplus items you can find anywhere. While they're very high-quality, these specific binoculars give you 10x the magnification.
Pretty lightweight compared to the majority of strong binoculars out there, this one is really durable, too. They won't shatter or break if you drop it a couple of times—which is something that we need if we're hunting or hiking. Waterproof and fog-proof with scratch-resistant lenses, the rubber-armored body is designed to be shockproof, too. And I guarantee you'll always have the clearest vision of the view or your prey whenever using it.
G.I. Style Poncho Liner by Rothco
This G.I. Style Poncho Liner is one of the best outdoor army surplus items you can find anywhere. These ponchos are specifically designed to keep you dry while walking in the pouring rain. Many of those in the military use poncho liners to keep them dry, too, and you can get your very own in case it's raining while you're camping or hiking.
Made out of 100 percent rip-stop polyester, the clothes you're wearing will be dry and clean when wearing this poncho out in the rain. This is definitely something that you need when camping. When you're camping and it's starting to rain out, all you can do is stay inside of your tent until the rain subsides. But now you can head out and still stay dry in this poncho liner!
3 Day Pass Backpack by Sandpiper of California
Lastly from the greatest outdoor army surplus items you can find anywhere now is this backpack by Sandpiper of California. The majority of those in the military all have backpacks with their necessities safety stores away in them. And wouldn't you want a backpack that can store so much when you're hiking or camping? Military backpacks are nothing like regular backpacks. They feature so much storage room for all of your belongings and much more.
Styled in the coolest digital camo design ever, it's hydration compatible with organization panels and adjustable waist belt. But wait, this backpack is very lightweight, too, which is what we all need for hiking. This backpack won't strain your back or shoulders, as well! And since there are so many pockets featured, you won't know what else to store away.