Serve is powered by Vocal creators. You support
Bill Shaffir
by reading, sharing and tipping stories...
more
Serve is powered by Vocal.
Vocal is a platform that provides storytelling tools and engaged communities for writers, musicians, filmmakers, podcasters, and other creators to get discovered and fund their creativity.
How does Vocal work?
Creators share their stories on Vocal's communities. In return, creators earn money when they are tipped and when their stories are read.
How do I join Vocal?
Vocal welcomes creators of all shapes and sizes. Join for free and start creating.
To learn more about Vocal, visit our resources.
Show less
10 Famous Writers Who Joined the Military
Many people go on to great things after their military service, and some amazing writers who joined the military proved that by shaping the world of literature with their stories.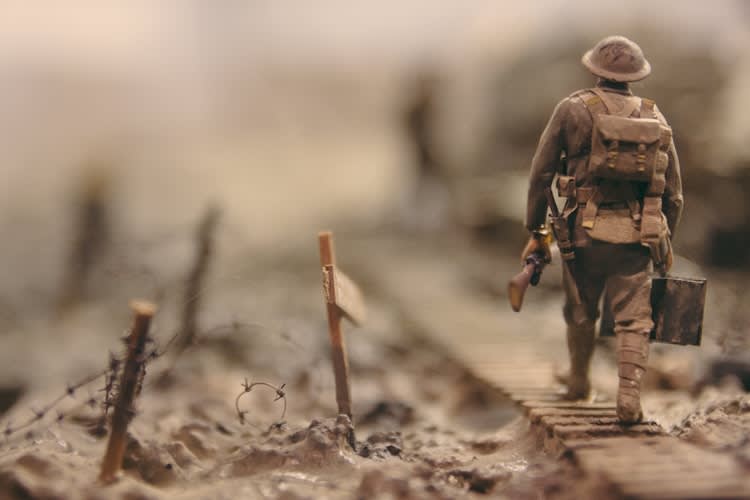 There's something about military service that changes a person. For that reason, it's only natural for these men who served in the Army, Navy, Air Force, or Marine Corps to want to write about their experiences.
Military experiences are something that has a profound effect on a person. Some authors used their military experience to influence their later works, while some authors even begun their work prior to their service.
Regardless of the time or capacity in which they served, their time spent in the military could very well be the necessary life experience they needed that enhanced their work. In fact, some people believe that quite a few of these classic works of literature would not even exist today if it wasn't for the military experiences of the authors who wrote them.
There is a certain power and authority that comes from an author with experience. Whether they were a volunteer ambulance driver or served in Vietnam or the Civil War, writers who joined the military came back with a story to tell. Their experiences are something that should be valued and celebrated along with the creative works they eventually produced.
Tim O'Brien
The Vietnam War was nothing short of a devastating and controversial time in the United States. So many families lives were interrupted and destroyed by the fallout from the conflict. Tim O'Brien was drafted only two weeks after finishing his college coursework and earning his degree from Macalester College.
He was drafted in 1968, at the height of the Vietnam War. This was a bloody year for American servicemen, and O'Brien was there right in the middle of it all. He served as an infantryman during his tour. He was wounded twice and received a purple heart for his efforts, coming home with a significant story to tell.
His most famous work from that time was a short story collection called The Things They Carried, which told a variety of stories about the life of the men who were fighting in the jungles of Vietnam. The book has received numerous awards over the years, but can be difficult for people to read because of how graphic the content can be at times.
Ernest Hemingway
Hemingway served as an ambulance driver for the Italian Army in World War I. During his time with the Italian Army, he was wounded by a mortar, and eventually began his writing career as a war correspondent in Paris. These experiences would shape his work.
Ernest Hemingway has received many literary awards, which include a Nobel Prize for Literature and a Pulitzer Prize. He is widely considered one of the most influential American authors. His most famous works include: A Farewell to Arms, The Sun Also Rises, The Old Man and the Sea, and For Whom the Bell Tolls, one of the greatest books about war every man should read.
A Farewell to Arms was considered a controversial book, and the Italian Army was vocal about their disapproval of the novel because they disliked the anti-war theme that was prevalent in the novel. Hemingway was known to be somewhat eccentric and erratic and, in 1961, he eventually took his own life.
E.E. Cummings
Cummings is known mostly for his poetry, but might not be as well-known as some writers who joined the military. You've probably read one of his poems in high school even if you might not remember. He served as a volunteer ambulance driver in France after being drafted into the US Army in 1918.

Kurt Vonnegut
Vonnegut served in the US Army Infantry during World War II. He fought at the Battle of the Bulge and was taken as a POW. He survived the bombing of Dresden, which became the inspiration for his novel Slaughterhouse Five. He was able to survive the bombing by hiding in the cellar of the slaughterhouse where he was working at the time.
His novel was quickly recognized as an important work of literature, and Vonnegut used this success to further his writing career. He, like many of the authors who survive combat, was anti-war. His unique writing style is something that has characterized his career.
Robert A. Heinlein
Heinlein attended the US Naval Academy and served on the USS Lexington and USS Roper during this time with the navy. He studied aeronautical engineering at the naval academy and, of the writers who joined the military, was one of a select few who were commissioned officers.
Heinlein is credited by many as the creator of modern science fiction, and definitely one of the military science fiction authors you should be reading, and his novels Starship Troopers and Stranger in a Strange Land became widely successful. Starship Troopers was later turned into a movie franchise and he helped create a sub-genre of science fiction novels that are military themed.
J.D. Salinger
Known for the widely controversial Catcher in the Rye, not many people know that Salinger served during World War II. One of the more interesting facts about Salinger is that he is rumored to have been carrying six chapters of the novel in his uniform while he stormed Utah Beach during the D-Day invasions.

J.R.R. Tolkien
The Lord of the Rings is probably one of the most well-known fantasy novel series in literature. He served during World War I in the British Army, and lost two of his best friends from home during the war. He contracted trench fever during the war and, during that time, it is rumored that he got his inspiration for the Middle Earth areas in the novel series.

Joseph Heller
Another of the writers who joined the military is Joseph Heller. Known for his novel Catch-22, many of the events in his book were inspired from his time as a bombardier during World War II. He flew 60 combat missions with the Army Air Corps during the war and was a decorated combat airman.

Roald Dahl
Roald Dahl was a British fighter pilot during World War II with the Royal Air Force and was shot down somewhere over the desert in Libya. This inspired a short story appropriately titled, Shot Down Over Libya which was the story that helped start his writing career. He quickly became a very popular author, and he is widely considered one of the best children's authors in history.
Dahl has received quite a few awards for his literature, both for adults and children, and his books and stories are known for their surprise endings. His children's books are considered somewhat dark, with many adults as the enemies of the children in his works. Some of his most famous works are: Charlie and the Chocolate Factory, Matilda, The Witches, The BFG, and James and the Giant Peach. All of these books have been successfully translated into films as well, which makes it no wonder that Dahl is considered one of the more prominent celebrities that served in World War II.
Walt Whitman
The only of these writers who joined the military who actually wasn't even in the military at all. Whitman's brother was wounded during the Civil War and, upon receiving the news, he went to join his brother and aid in his recovery. Whitman dedicated the next three years of his life as a medic during the Civil War. His poems about his time spent during the Civil War are some of the most powerful war poetry ever written.