Serve is powered by Vocal creators. You support
Rowan Marley
by reading, sharing and tipping stories...
more
Serve is powered by Vocal.
Vocal is a platform that provides storytelling tools and engaged communities for writers, musicians, filmmakers, podcasters, and other creators to get discovered and fund their creativity.
How does Vocal work?
Creators share their stories on Vocal's communities. In return, creators earn money when they are tipped and when their stories are read.
How do I join Vocal?
Vocal welcomes creators of all shapes and sizes. Join for free and start creating.
To learn more about Vocal, visit our resources.
Show less
Best Military Boots for Flat Feet
Flat feet might keep you from enlisting, but that doesn't mean you can't lace up like a Marine! These military boots for flat feet will keep your feet dry and comfortable in all terrain.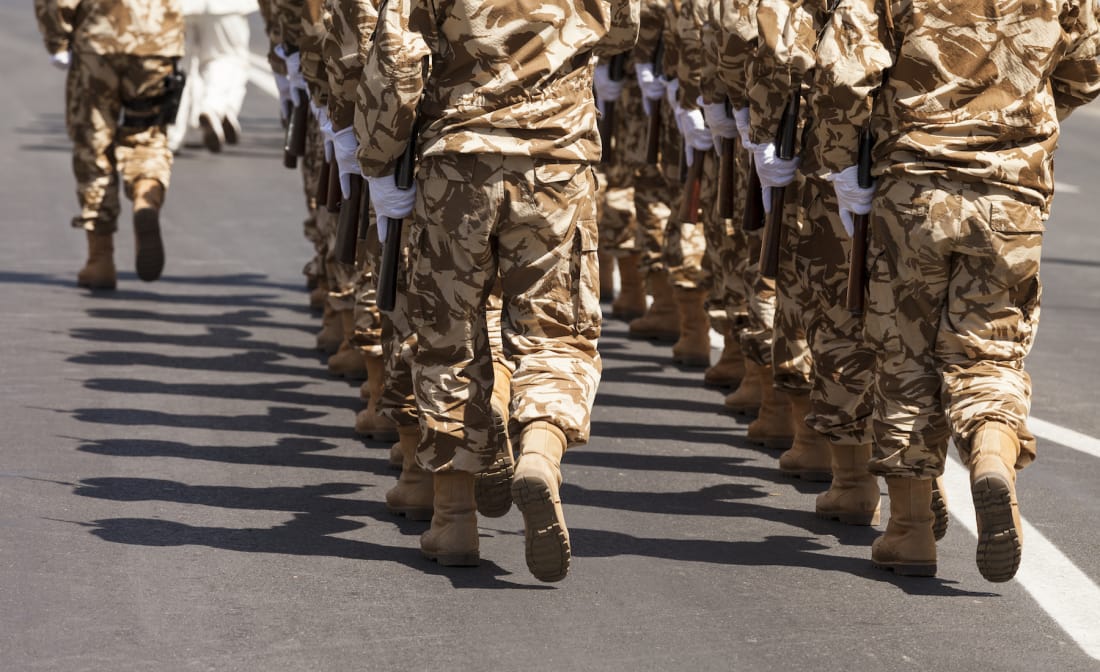 It's a well-known fact that having flat feet can be one of the things that disqualify you from joining the Armed Forces. Many people who want to join the National Guard are actually turned away because of it, and many folks who would love to try some of the best tactical boots also will find that they aren't too friendly for their feet. 
Low arches and military service aren't always good together, but times are changing. Nowadays, there are some military boots for flat feet out there. Here are some picks for flat-footed military fans who want to gear up in style. 
Men's Double Comfort 4760 Work Boot by Justin Original Work
Don't be fooled by these honky tonk-ready boots. Though they may look like regular cowboy boots, they actually hold a huge secret. They function like military boots for flat feet and are designed to be able to handle industrial-style use. 
A rich rubber sole, extra cushioning, and a design that's perfect for a day's hard work make these Western-style boots a great pick for people who love the durability of military gear without the look of it. 
Buccaneer Work Boot by Wolverine
Waterproof military boots for flat feet aren't always easy to find, but trust us, Wolverine will keep your feet dry with these ankle-length work boots. The design is reminiscent of Doc Martins from the 90s, and also come with the same high standard of quality that they used to have. 
High quality arch support and a very a subtle coated rubber outside make these great boots for all kinds of situations. Better still? They don't look overly tactical, so civilians need not worry about looking too intimidating with them. 
AR 670-1 Coyote Forced Entry Tactical Boot by Rothco
Rothco tactical boots have become a mainstay among military service members because of their excellent comfort and their grippy bottoms. The Coyote Forced Entry Tactical Boot is totally compliant with current military standards and also works well with flat feet. 
As such, it's currently considered to be one of the best military boots for flat feet and for geardos who love to have quality shoes on their feet while they attend boot camp. Not a bad choice, right?
T8 Bifida Tactical Boot by Garmont
Garmont's reputation among military service members and families is one that is as solid as they come. The T8 Bifida Tactical Boot remains one of their top-selling military boots for flat feet and high-arched feet alike because of its excellent design. 
Whether you want to have combat boots or just a really nice pair of work boots, this breathable pair will give you the cushioning and support you want—all with a breathable mesh lining to help you stay cool, too!
Belleville Transition Boots by Tactical Research
What's the only thing that's worse than wearing heavy winter boots when you have flat feet? Trying to wear boots that don't breathe during the summer. Tactical Research made an effort to create boots specially for hot weather. 
Their Belleville boots will help you keep your feel cool during the summer without having you sacrifice protection. As a result, they're incredibly popular with service members and working men alike. Their breathability also makes them some of the best military books for hiking. 
Men's Diagnostic Waterproof Steel-Toe Work Boot by Caterpillar
You might recognize the Caterpillar brand as the company that makes those massive construction vehicles you see in worksites. What you might not know is that Caterpillar also makes some seriously impressive work boots and military boots for flat feet. 
Their Diagnostic Waterproof Steel-Toe Work Boot line, for example, offers all the protection serious construction workers need with a nice military flair. Bringing these to basic training will definitely get some nods of approval; they're Caterpillar strong. 
Men's GX-8 8 Inch Ultra-Lites GTX Waterproof Boot by Bates
If you like the idea of wearing military boots both style and functionality, then you might want to take a good look at what Bates has to offer. These ultra lightweight boots are designed to be waterproof, cooling, and cushioned enough for flat footed men to enjoy. 
These tall-ish boots are around 8 inches in height, which means that you get ample ankle protection in rougher terrain. Best of all? They have that classic military look that makes them look both sharp and intimidating at the same time. 
Women's Code 6 Lightweight Tactical Boot by Bates
Finding military boots for flat feet isn't just a men's thing, you know! Ladies serve in the military and have demanding jobs involving physical labor, too. Don't worry, ladies! Bates has you covered with a lightweight tactical boot that looks slick, grips well, and also offers great support. 
Standing for hours on end no longer has to hurt, nor does it have to mean that your feet will cook by the end of the day. Once you slip on Code 6 boots, you'll have a brand new way of looking at footwear. 
Jack II Black 4.5" Boots by Danner
Looking for boots that would pass for civilian, but have the ruggedness of tactical gear? Danner has the right item for you. This pair of 4.5-inch high boots are a perfect walk between tactical and civilian wear. 
Though these aren't technically military boots for flat feet, they do have all the sturdiness, look, and impressive outsole construction you would expect from a world class military shoe. Why not complete the look and pair them with some of the classiest and best military smartwatches while you're at it?
Men's RKC050 Military and Tactical Boot by Rocky
Finally, we're going to have to add a Rocky boot to our list of the top military boots for flat feet. After all, with a reputation for durability like Rocky, you really can't go wrong with suggesting a shoe from their brand. 
Their RKC050 boots are meant to offer lightweight support with ample space around the foot—which makes them ideal for flat feet. They are uniform compliant and US Armed Forced-approved, which makes them a perfect gift for the recruit in your life.