Serve is powered by Vocal.
Vocal is a platform that provides storytelling tools and engaged communities for writers, musicians, filmmakers, podcasters, and other creators to get discovered and fund their creativity.
How does Vocal work?
Creators share their stories on Vocal's communities. In return, creators earn money when they are tipped and when their stories are read.
How do I join Vocal?
Vocal welcomes creators of all shapes and sizes. Join for free and start creating.
To learn more about Vocal, visit our resources.
Show less
How Powerful Is the Royal Navy?
Is the UK lacking behind other countries?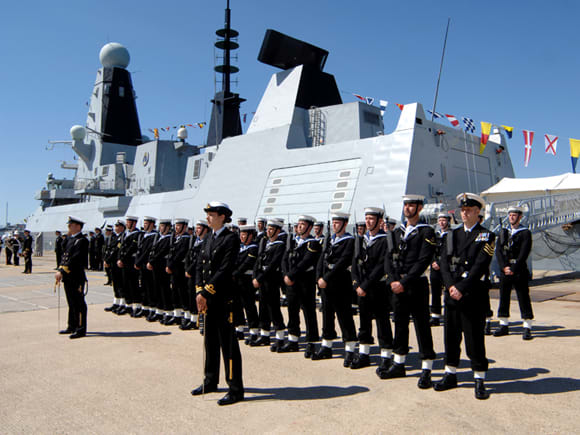 Many years ago, the Royal Navy was deemed to be the most formidable fighting force in the world with many ships in its arsenal ready to be mobilised. 
Ships such as the HMS Victory (which is the oldest commissioned warship in the world) were considered to be the most powerful in the world with a multitude of cannon and small arms ready to be used in the event of an attack.
Now, in the present day, the Royal Navy now ranks around fifth on the World's Most Powerful Navy's (sourced from 'IMPROB'). So why is this? 

The Royal Navy boasts a fleet of modernized ships. The fleet includes two aircraft carriers, four nuclear-powered ballistic missile submarines, six nuclear-powered fleet submarines, two amphibious warfare ships, six destroyers, thirteen frigates, four offshore patrols ships, thirteen minehunters, eighteen fast patrol boats, four survey ships, and one icebreaker. 

The modern ships are well armed often consisting of a five and a half foot Mark Eight naval gun and a 30mm DS30M Mark two naval gun for their artillery. They also use a wide array of Miniguns and General Purpose Machine Guns close-in defence.
For close in range missile defence the Royal Navy use the Phalanx CIWS which can churn out a phenomenal 70 rounds per second. Submarines are armed with Spearfish torpedos which can eliminate other submarines and ships. The Sting Ray torpedo which is designed to be carried by the anti-submarine helicopters Augusta Westland Merlin and Wildcat. 
The Royal Navy uses two different types of Anti-Aircraft Missiles, the Sea Ceptor missile and the Sea Viper Missile which can reach speeds of up to Mach Four (3,000+ mph).
The aging Harpoon Missile is used for Anti-Ship defence but is due to be replaced by the Martlet Missile in the near future. The Tomahawk Missile is used for Land Attack purposes.  
Finally, the Trident II D5 Nuclear Ballistic Missile can carry eight nuclear warheads with each of them being 8 times more powerful than the bomb dropped on Hiroshima! 
The Royal Fleet Auxiliary (RFA) is owned and operated by the Ministry of Defence. The RFA's role is to maintain operations around the world. Its primary role is to supply the Royal Navy with fuel, ammunition, and supplies, normally by replenishment at sea (RAS). It also transports Army and Royal Marine personnel, as well as supporting training exercises, and engaging in anti-piracy, anti-drug smuggling, and humanitarian operations.
The RFA have 12 ships which are armed lightly with 30mm DS30M Mark Two naval guns, Phalanx CIWS and a wide array of Machine Guns and Miniguns.
One thing we are looking forward to are the brand new Type 26 Frigates which will not only boost the Royal Navy's operational capability but also Britain's economy.
The Type 26 will be armed with a wide range of short, medium and long-range missiles, each with a different role. She will also be armed with the BAE 5 inch 62-Calibre Mk 45 Naval gun, two 30mm DS30M Mark Two naval guns, two Phalanx CIWS and a multitude of General Purpose Machine Guns and Miniguns.
In conclusion, the Royal Navy may have decreased in size, but it still packs an incredible punch and will continue to rank high in the worlds most powerful navy's and will pose a potent threat to any countries wishing to challenge their ability. Although, while the equipment and ships are state of the art, the Royal Navy could benefit from a larger fleet as the fleet size lacks severely behind allied countries such as the United States of America. This is due to spending and budget cuts within the service.